A fantastic way to recycle a pinch of clothes
Have you ever come up with an idea that could make sense of what is visually depicted and that could easily be decorative or practical, but which you haven't chosen completely? This is exactly the experience I had last week when I started making products with an old package of wooden clothes stoppers that I found in my basement and didn't even open. One of my favorite crafts is creativity, using unconventional things that are not used around my house, because it really fascinates me and it also eliminates clutter. The best part is that in the end I get a new practical pendant or decor!
After finishing this pinch-style piece of clothing, I realized that I could easily show it on the wall details, use it as a cover, put a candle in the center, or any other thing. There are a few things I like more than a varied DIY piece, so I decided to plan the activities I did so that other artisans could try it as well. Follow this explanation and step-by-step photo guide, or scroll to the end to find a helpful video tutorial instead!
For this project you will need:
Wooden clothes pegs
Acrylic paint (white and gold)
Take it
Wood glue
Step 1:
Gather your materials!

Step 2:
Disassemble your clothespins! Instead of using them whole instead of packaging, you will want to use separate wooden sides. You won't need metal springs, so put them aside (I actually keep mine because I have an idea for another project to think about later). Finally, to create a full circle, you will need 56 halves of a pinch of wooden clothes, so you will want to remove 28 whole strands of clothes. I would recommend dividing the wooden halves into two piles, each with half the number of pieces. This will make the job easier in an instant, because you paint exactly one side of the tree and the other side.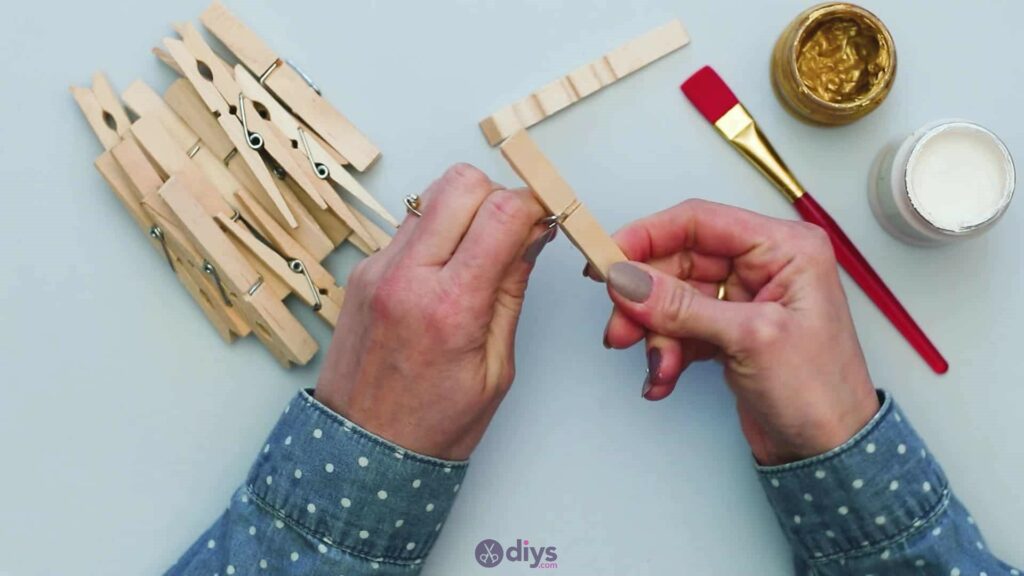 Step 3:
Use a brush to paint for all a pinch of wooden clothes in one of your piles is completely white! Make sure to paint the front, back and both sides completely and evenly. By the end of this pile, you should have painted 26 white pieces, which is half of your total. Set them aside to dry.
Step 4:
Clean the brush or grab a new one and paint the remaining 26 halves of the wooden clothespins in the second pile completely with gold! Again, make sure you get full, even coverage. Also set them aside to dry. If the color is opaque, it can be done in more than one color.
Step 5:
Now you will start to form a circular shape from the painted sides of the clothespin. You will do this by connecting them flush with the conical (or smaller pointed) end. The shape of the stellar flare is caused by the shape of this end and the way each of them increases relative to the other end, as the thicker ends pretend and are away from the center but do not touch each other. Start by holding your first side of the tree in one hand and applying glue to the flat, conical end of its curved side (no its flat side) with each other. Then take half of the others colored stack (which is not the same color as your first piece) and glue its tapered end down into this glue, making sure you stick flat half of it. You will always change colors and glue a flat side with an edge, otherwise the shape of your asterisk will fail. As your piece grows, you will see that it naturally begins to round itself in a circle. The bigger it gets, the more you may find it easier to keep it flat at the table and work on it than to lift the pieces. You slide your last piece inside to close the circle completely, and since you worked with an even number of pieces and a variable pattern, you have to finish it without repetitions.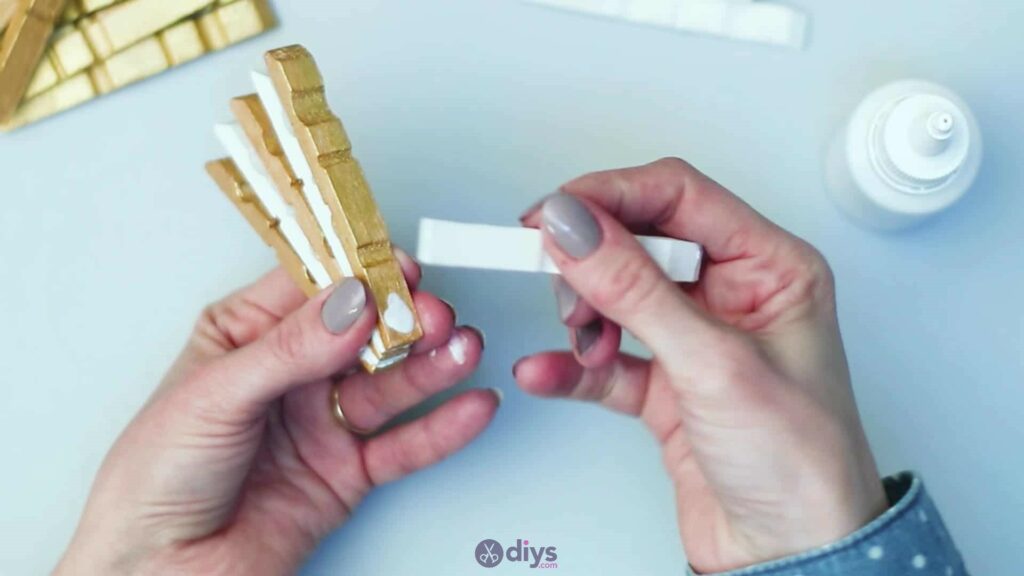 Believe it or not, this is really all you need! Of course, you are always free to change the color scheme or something darker or lighter and more eclectic. Instead, you could even create a version that has only one color. No matter how you decide to act, check this out video tutorial up to five you get your hands on the way.