How to make a paper or cardboard castle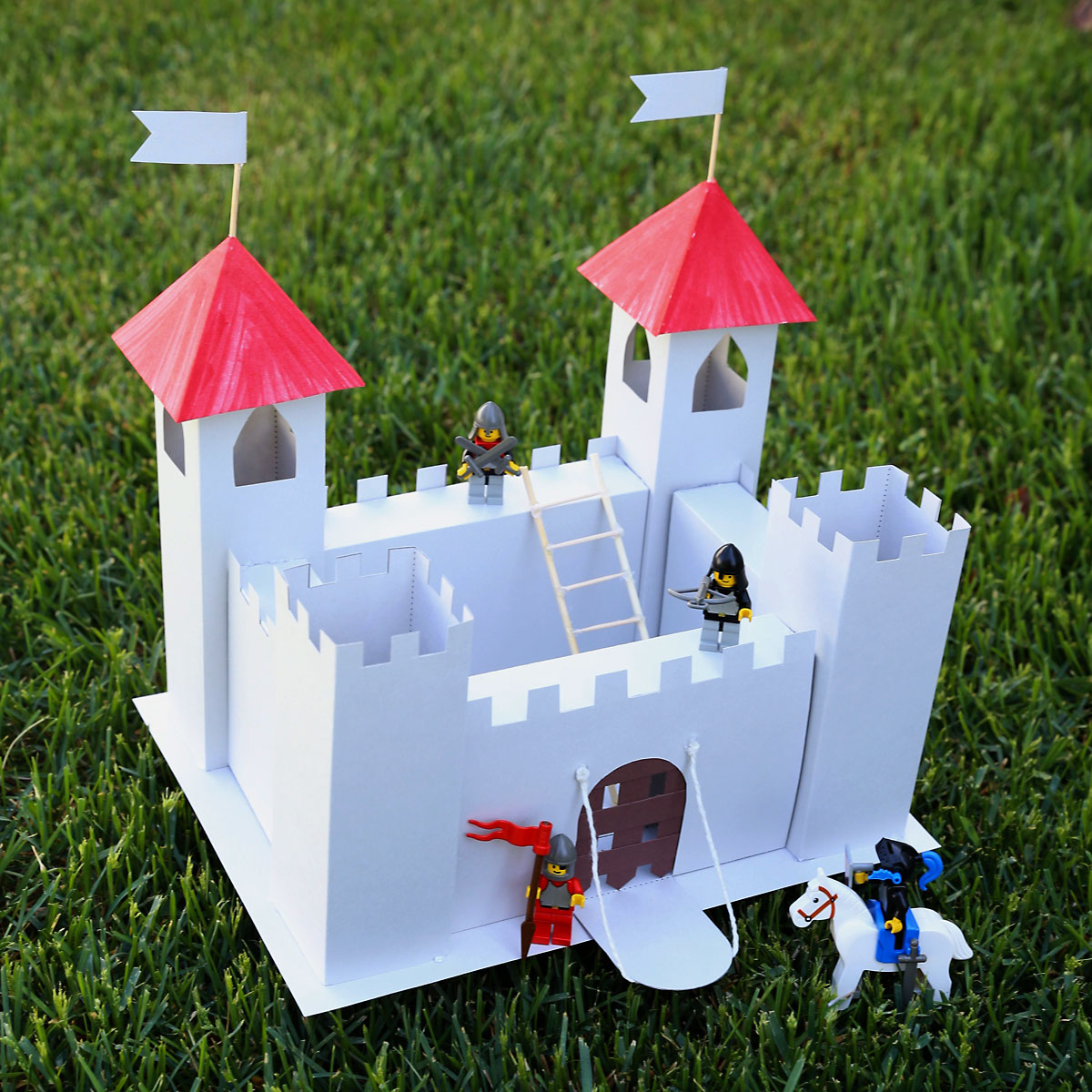 In today's post: use this free printable template to create a paper or cardboard castle with your kids!
So it turns out that people react to long-term stays at home in different ways. For example, my sisters have apparently arranged every corner of their house, even choosing baby construction paper by color. My neighbors have grown their yards with new flowers and new bark, working until the weeds are visible. On the other hand, I have not organized one bold case. Or weeded. Instead, I figured out how to make a castle out of cardboard.
Because it's perfectly normal. 😂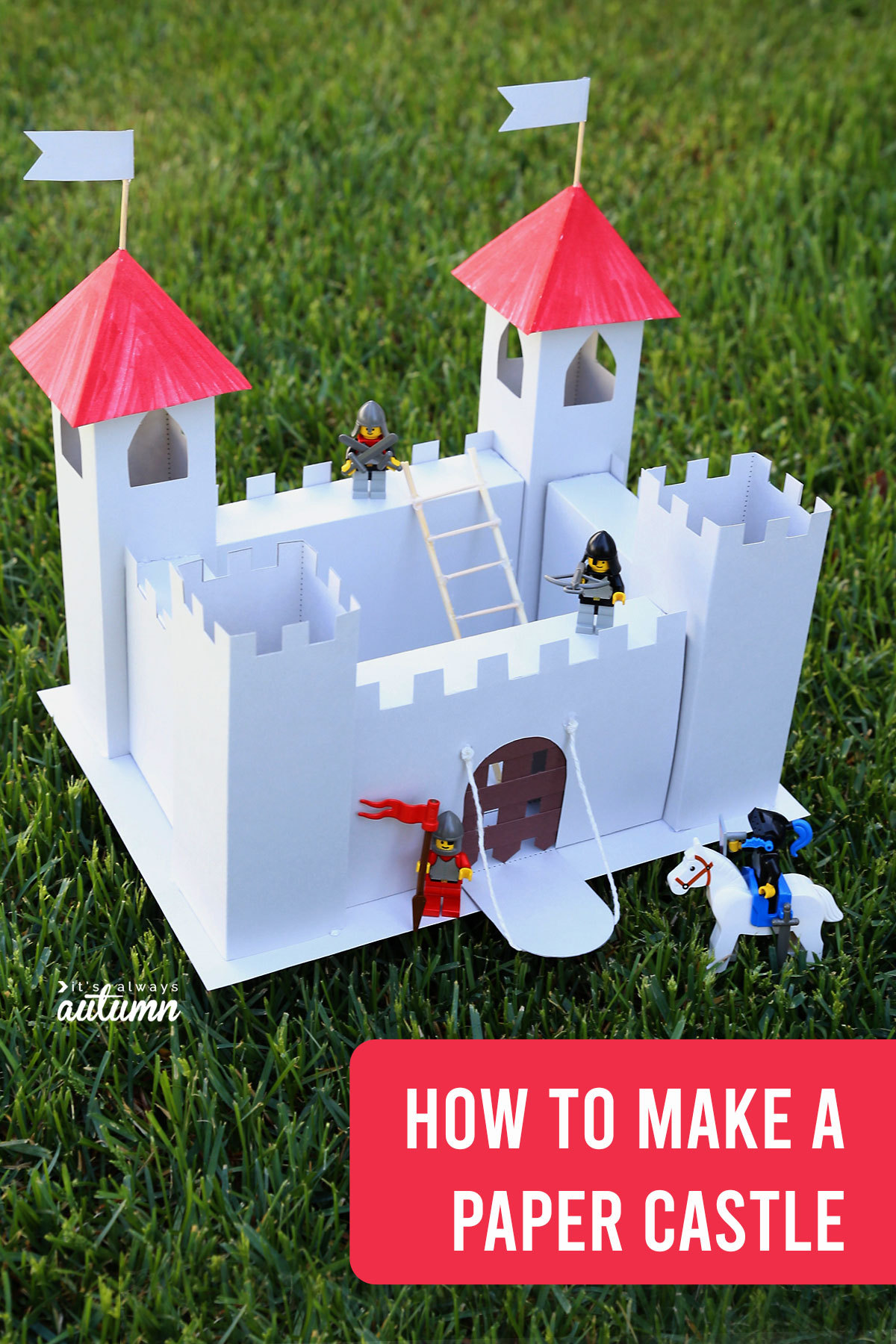 Cardstock castle template
I've created a printable template so you can make your castle out of hard paper (cardboard) or cardboard.
First of all, why might you want to make a paper / cardboard castle? Well, I will say that my primary school children have had a great time in this castle with their LEGO knights. My sixth grader actually had to prepare his castle for school earlier this year, so he knows all about portcullis (the brown thing that blocks the driveway) and parapets (cuts in the top walls that archers can hide behind).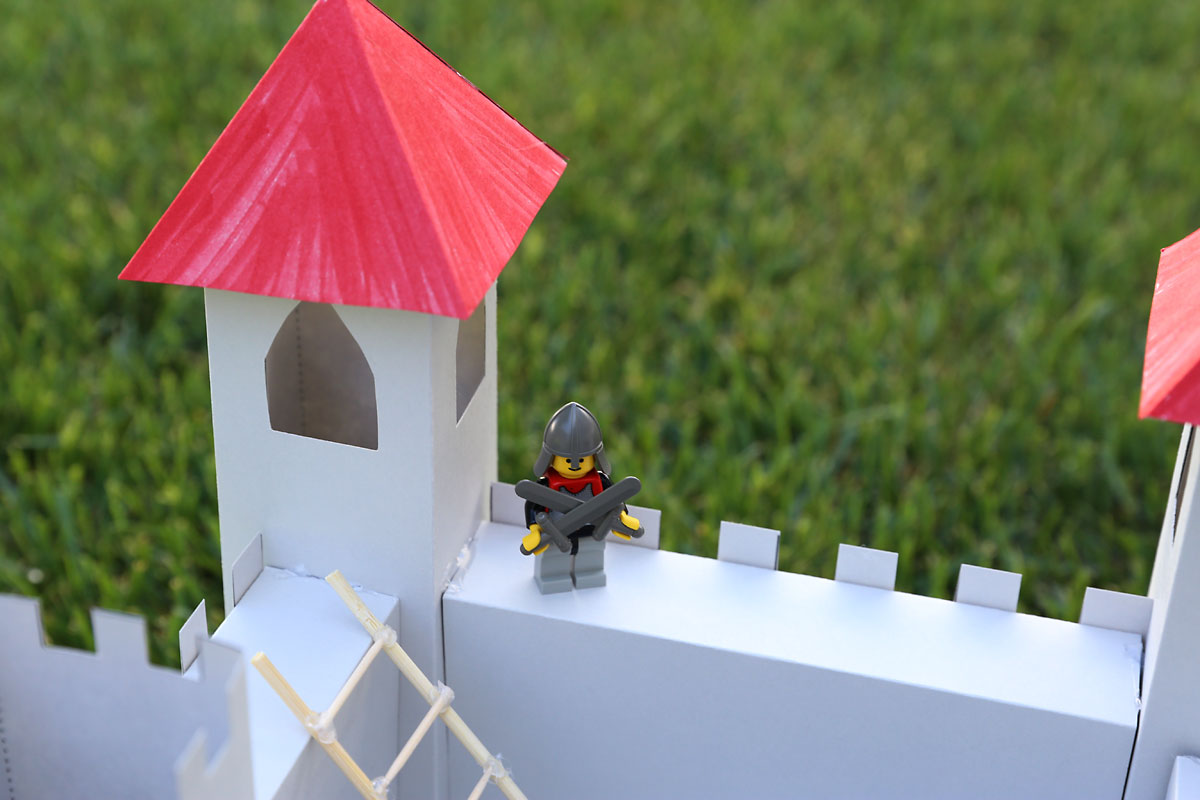 It could be a fun project where you can work with children when you need an activity that won't allow everyone to use electronics for a while. It may take 30-60 minutes to cut and build (or maybe longer if the children do all the cutting themselves).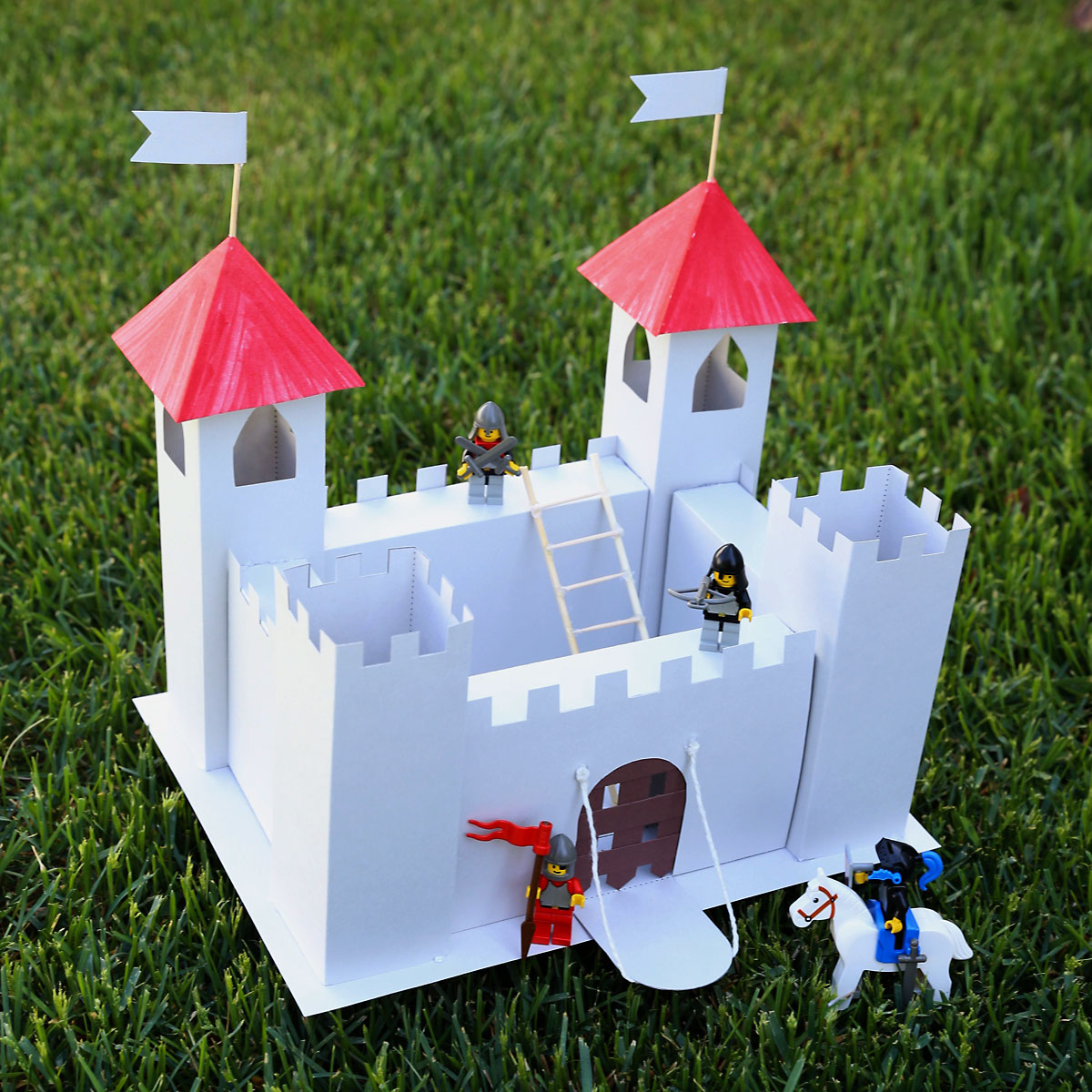 Paper / cardboard castle accessories
You can make this castle from paper or cardboard. I use cardboard, which is a thick, stiff paper. Cardboard is a great option because it is flexible enough to pass through the printer, which means that the template can be printed directly on it, and it is thin enough to be cut with conventional scissors. In addition, it is easy to fold and quite durable when it is all glued. If children are involved in building this castle, I definitely recommend cardstock. I ordered this gray cardboard package from Amazon and now we have enough for the whole country to be full of castles – if we ever want to do that. You will need 9 sheets of cardboard in each castle.
if you wish really durable castle, you could also make it from cardboard. However, I would not recommend encouraging children to do so, as cardboard can be digested and folded. If you want to use cardboard, you will need to print the templates and then find them on the cardboard.
Click here to download the template. Download it to your computer, and then print it 100% or full size on 8.5 × 11 sheets of paper. You will see a test line at the bottom of page 1, which should be exactly one inch long if it is printed at full size.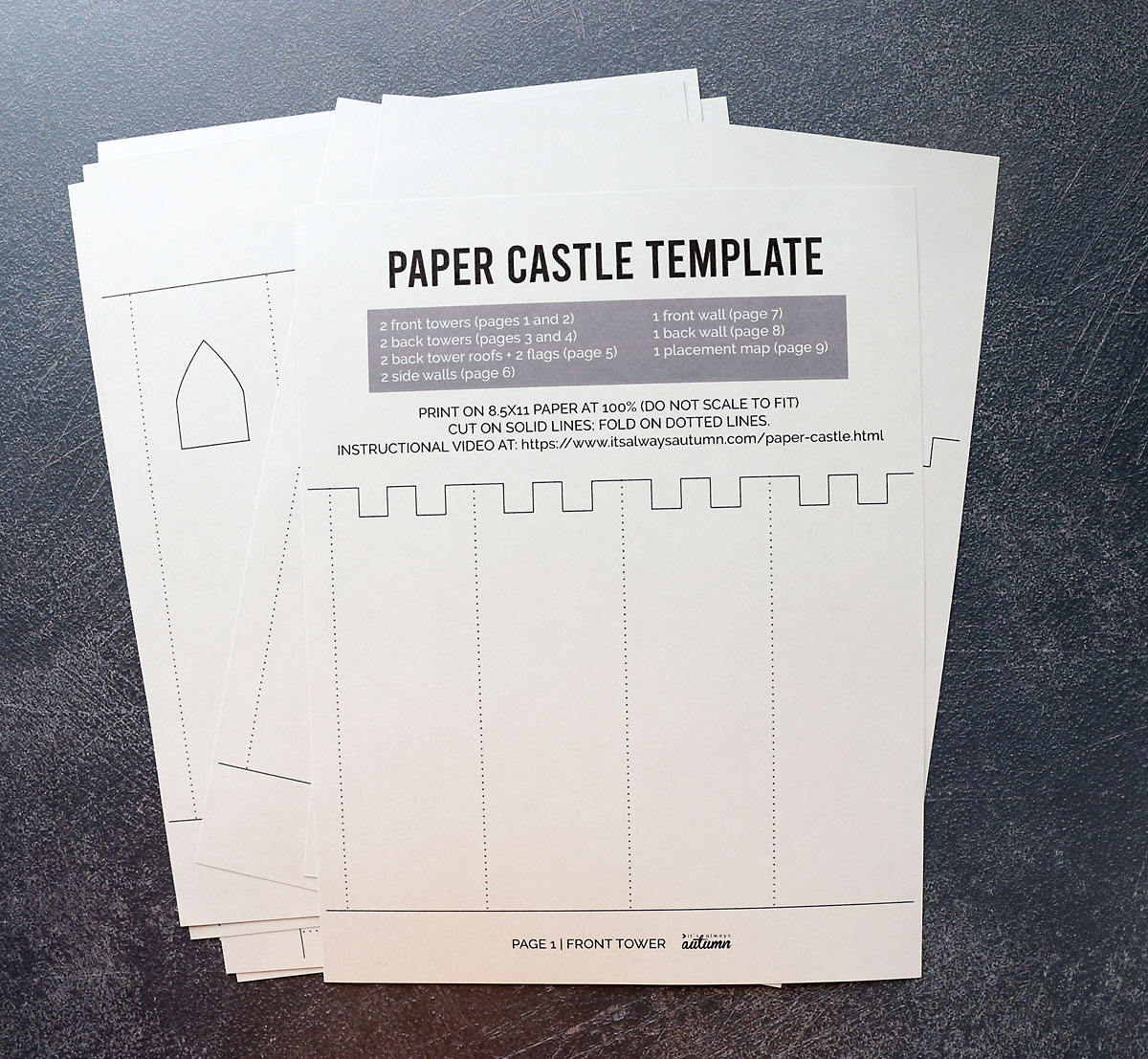 To make a castle, you will also need:
A way to cut straight lines, such as a paper trimmer or an exact knife and ruler. If you don't have a paper trimmer and you don't want your children to use an exact knife, they can cut everything with scissors. The lines may not be perfectly straight, but that's fine.
Scissors for cutting parapet cuts
Hot glue gun
Optional: you can also make portcullis from strips of brown paper and stairs from skewers and toothpicks if you wish
How to build a cardboard castle VIDEO
The easiest way to figure out how to put it together is to watch the video below. Please note: If there are no videos below this point, that means you're using Ad Blocker. Please disable your blocker or whitelist this site to watch the video. I know that no one likes to watch promotional videos, but it's the ads that allow me to create free content. Thanks!
Additional castle construction tips
Please remember that you will cut solid lines and fold them into dotted lines. It is easier to get even folds if you get them first. If you don't have a grading tool, use the butter edge knife to get the back edge, as shown in the video above.
In addition, all the pieces have a TAB where you place the glue. When you have cut and folded each piece, hold it in half with the dotted lines facing up. Fold the tab and apply glue to it (as shown in the photo below). Then fold on the 3rd dotted line to glue the piece together. This creates a box (all walls and towers are made using these pieces of the box).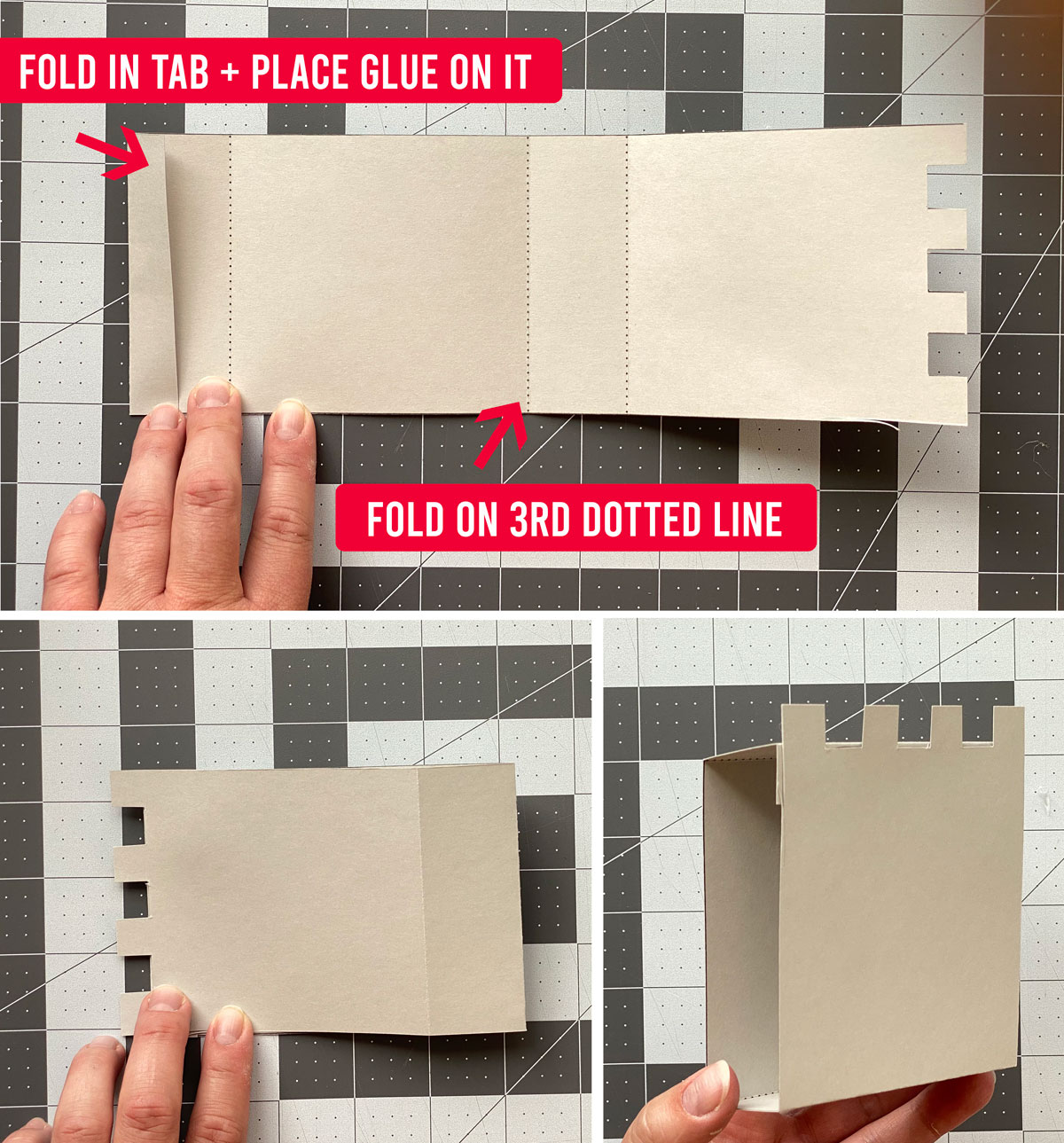 Once you've created all four walls and all four towers, you'll stick them on a placement map, as shown in the video. First glue each wall, then glue the towers. Finally, glue towers and walls for stability.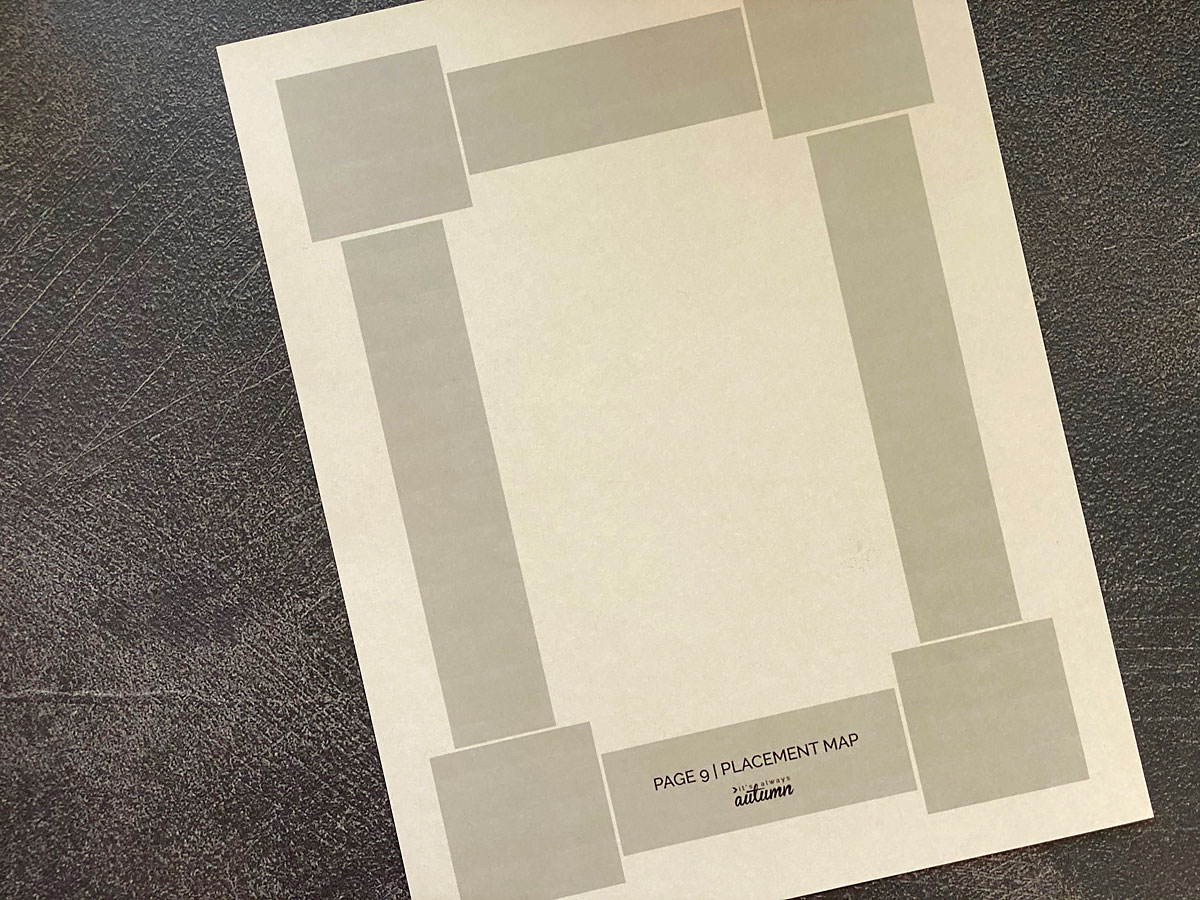 And that's exactly how you build your cardboard castle! The video shows how to add flags, a bridge and a portcullis (portcullis is not created, if desired, create it from strips of brown paper).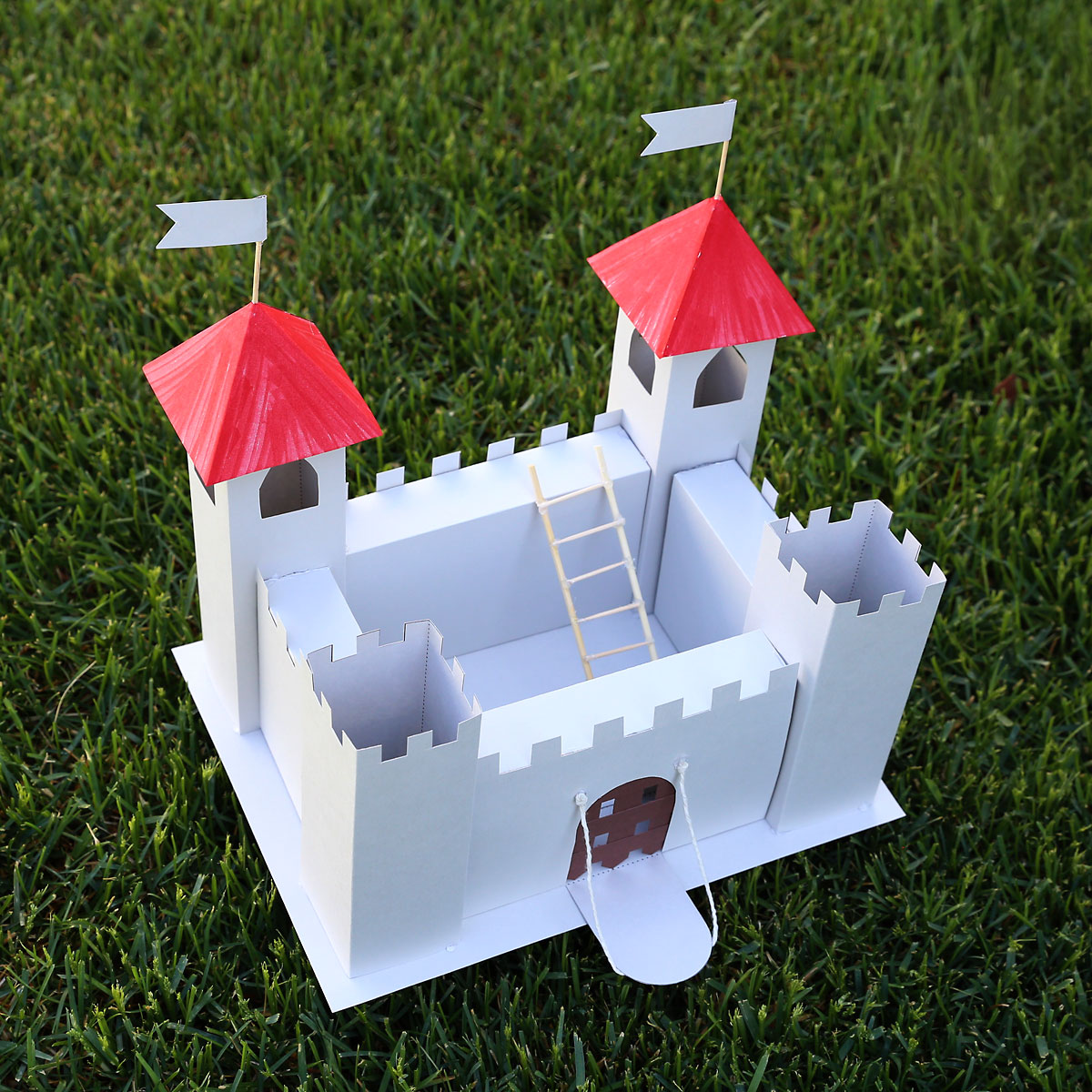 The children could also decorate the castle by drawing more windows or painting the edges to make them look like stones. My son didn't like me gluing the portcullis (because it blocks the recording), so he's already made some adjustments. You must love craft projects that even 11-year-old boys will love!
More craft projects for kids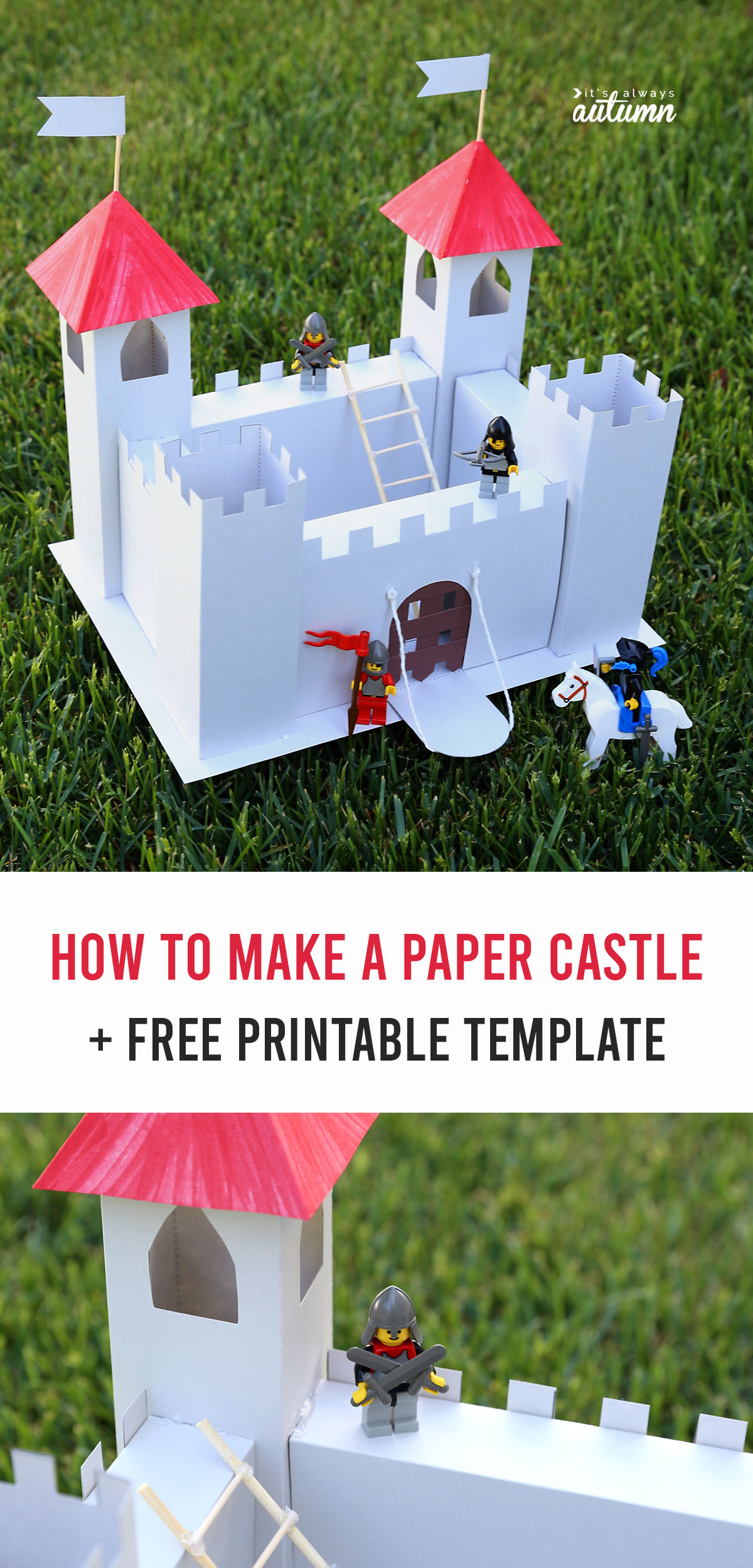 <! – ->